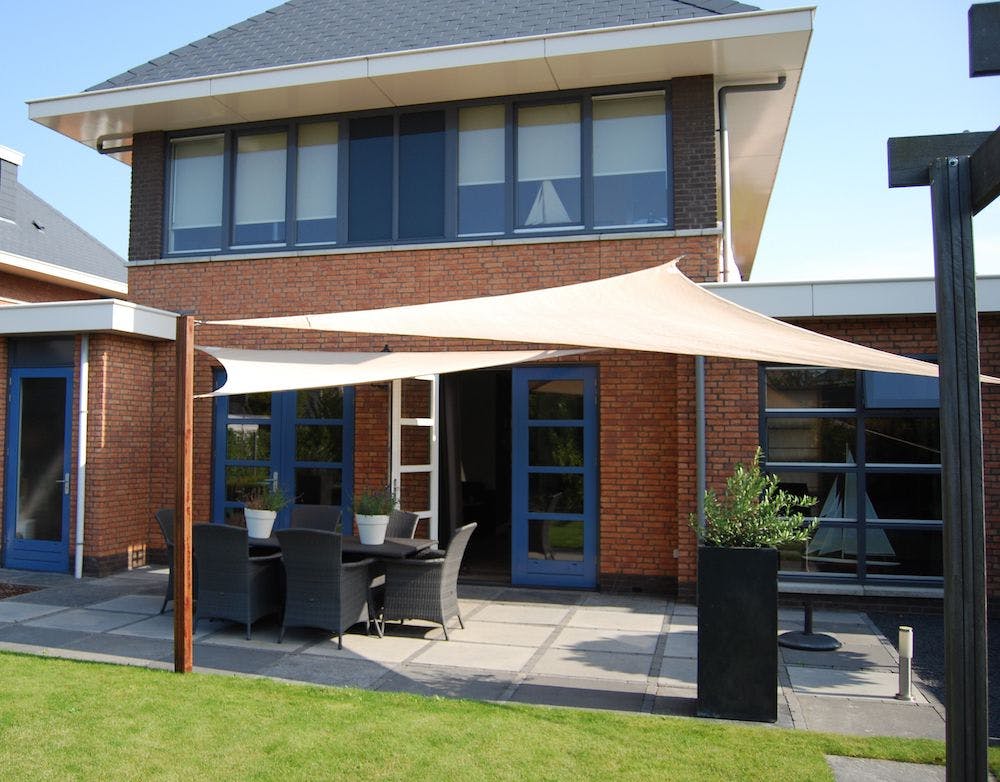 23 May
Installing a shade sail - tips and tricks
How to install shade sail
Shade sail
The weather is improving, and the sun is showing itself more and more. This also means that you have to protect yourself from the sun, and a shade sail is the perfect way to do that. In this blog, we give you tips and tricks, and explain how to install a shade sail yourself.
Shade sail vs parasol
A shade sail has many advantages over a parasol. For example, when you are not using it, a shade sail takes up a lot less space. You can simply fold the fabric and put it away in a small bag, something that is impossible with a parasol. A shade sail is also a lot more secure, because you attach with bolts, carabiners, or hooks. A parasol often comes with a heavy and expensive base that can tip over and stand in your way.
Shade sails are also great for camping. Combined with carabiners, they are easy to put up, and their compact size makes it easy to carry. Depending on the type of shade sail, it can function as rain cover in addition to sun shade. On top of that, shade sails tend to be more affordable than a parasol.
Finally, a big advantage of shade sails is their flexibility. You can put them anywhere you want, and they are available in different shapes and sizes, so you can always find the right one for wherever you need them. There are triangular, square, and rectangular shade sails, as well as more high-end options like harmonica shade sails.
Where do I install my shade sail?
The first decision you need to make is where you want to put your shade sail. You can use different methods and points of attachment. Think of a wall, a strong beam, a tree, or a post. Consider how often you want to be able to use it. Is it a one time thing, or something you will use a lot? Are you going to leave it up all summer long, or will you take it down every night? For temporary use, you might not have to place eye bolts in your wall. Look at the size and shape of the shade sail and of the place you want to install the shade, and determine the attachment points.
What do I need to install a shade sail?
Carabiners. This is the connection between the wall or post, and the shade sail. Determine the size of the carabiners by looking at the load bearing capacity. The 8 x 80 mm and 10 x 100 mm are the most popular carabiners for this job. Below, we will explain more which type of carabiner you need.
Chains, ratchet straps, or rope when you need to bridge a gap.
Turnbuckles, to properly tighten the sail.
Carabiners for shade sails
Depending on how you use your shade sail and what you like, there are several options of carabiners you can use for shade sails. For a more elegant look, you can opt for black carabiners. For a strong connection in a dry environment, galvanised carabiners are a good choice. If you live in a place with variable weather, we recommend using stainless steel carabiners, because they do no rust. Black carabiners are also protected against corrosion by the black coating.
Attaching the shade sail to a wall
Are you going to attach the shade sail to a wall? Use anchor bolts for a secure connection to your concrete or stone wall. Anchor bolts with eye already have an eye that you can connect the shade sail to. How can you install an anchor bolt?
Let's take our anchor bolt with eye M8 x 90 mm. Drill a 55 mm deep hole in the wall with a 14 mm hammer drill bit. Insert the bolt in the hole and turn the nut. This causes the sleeve of the bolt to expand and lock itself in the hole. This creates an incredibly strong connection for your shade sail. Note: to prevent the stone from breaking, do not tighten the bolt too much.
Attaching the shade sail to a wooden wall or post
Are you going to attach one or more corners of your shade sail to a wooden post or wall? Create an anchor in the wood with a threaded insert. Combined with an eye bolt, this is a great way to make a strong point of attachment. Pre-drill the wood with a hardwood drill bit and work the threaded insert into the wood. Next, you can insert the eye bolt.
Guide for mounting a shade sail
A short overview of how to install a shade sail.
Decide where you want the shade sail;
See if you can find good attachment points;
If necessary, create new points of attachment with eye bolts;
Use carabiners to connect the shade sail to the eye bolts;
Use chains, turnbuckles, or ratchet straps where needed to tighten the shade sail and bridge large gaps;
Enjoy the shade on a hot day.
Would you like to install a shade sail on top of your pergola? Check out our wide range of harmonica shades.
You can find all the necessary mounting materials in our category shade sail hardware. Or browse all of our fasteners to collect everything you need. Are you still looking for a shade sail? Check out our selection of shade sails to find the right one for you.