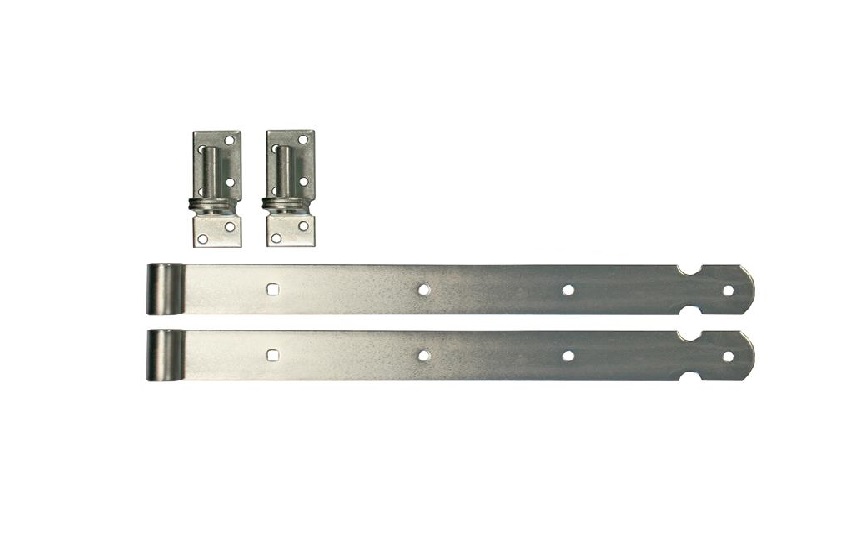 Delivery between 2 and 5 business days throughout Europe!
The premium brand for screws and bolts
Wovar Hinges and Hooks
Do you want to hang a garden door on galvanized hinges? Or do you want to make a yard gate with, for example, black painted strap hinges? We have a wide range of modern and rural hinges and hooks for sale. Choose from galvanized, stainless steel or black and from straight, with offset or with bend. Hinges are sometimes also called strap hinges. You can easily mount Wovar hinges with carriage bolts or lag screws. Order modern or elegant hinges and hooks at Wovar, and be assured that your delivery is at your doorstep in no more than 2-5 business days so long as your delivery address is situated in Europe!
Choose from gray galvanized hinges with large bend, straight or bend. Or discover our modern range in black hinges, hooks and hinges. All hinges that we offer are covered by garden fittings and are therefore suitable for outdoor use. The hinges all have a high-quality protective layer. As a result, the hinges are well protected against corrosion, rust and oxidation.
Hinges for 16 mm hooks are the most sold
The hinges for 16 mm thick sheet metal (most sold) all have 1 square mounting hole and a number of round mongta holes. The round mounting holes have a diameter of 8.3 mm. This makes our M8 carriage bolts and M8 lag screws suitable for mounting the hinges. carriage bolts have a square section under the semicircular head. This square section fits comfortably into the square mounting hole of the hinges for D16 hinge hooks.
Light hinges 10 mm
Our hinges for 10 mm hinge hook do not have a square hole. The round mounting holes are also smaller. You can easily attach these hinges with our 4 mm thick garden screws.
Roughly speaking, Wovar supplies 3 different types of hinges. These are straight hinges, hinges with large bend and hinges with a bend. To make the right choice for which hinge is right for you, we will list the differences for you.
Hinges straight
Wovar supplies straight hinges in blue galvanized, hot dip galvanized and black passivated steel. Straight curtains allow your door to fall slightly outside your door frame. The hinges come on the same side of the hooks. With straight hinges, the door hinging direction is always on the same side as the hinge hooks. Your door or gate falls slightly outside the door frame because the hooks of the hinge hooks protrudes approximately 20 mm.
Hinges with large bend
Hinges with large bend are your best choice when your door should fit exactly into the door frame. If you place a hinge with large bend in combination with a hinge hook on a table, the hinge will lie completely straight on the table. so your door is flush with the back of your hinge hook. This is because hinges drop inwards by 20 mm with an offset. As a result, your door or garden gate falls exactly into your door frame. These hinges with large bend are also the most popular.
Wovar supplies hinges with large bend in galvanized steel, black with tip and black with rustic tip. The hinge hooks are on the same side as the hinges. As with straight hinges, the direction of rotation is on the same side as where the hinges are attached.
Hinges with bend
Wovar supplies curved hinges in two different types. Namely galvanized in blue and black passivated with rustic tip. The rustic tip creates a beautiful rural look. The bend of these hinges makes it possible to mount the hinge hooks at the back of the post. This prevents gusts of wind from passing through your door. By using a hinge with a bend, your door will fall 4cm inward. The holes have a diameter of 8mm. This makes our M8 carriage bolts suitable for mounting the hinges.
How do I mount hinges to my door or gate?
Mounting the hinges is quite easy. It is indicated per hinge how many mounting holes it has. Use M8 carriage bolts or lag screws to attach hinges. It is important that each mounting hole has a carriage bolt or lag bolt. There is 1 square mounting hole in each hinge. This is intended for a carriage bolt M8. The square part under the semicircular head of the Wovar carriage bolts fits exactly in here. To fix the other holes you can also choose to use M8 lag screws. When using lag screws, you should pre-drill with a 6mm thick hardwood drill. Note: Do not drill all the way through the door when mounting the hinges with lag screws. When mounting hinges with carriage bolts, drill completely through the door. For this you use a hardwood drill 9mm.
Hinges for shutters
Wovar supplies hinges for window shutters and several light applications such as closet doors. These black hinges are narrower and suitable for 10 mm hooks. Light hinges are only available in a straight model. In terms of ends, you can choose hinges with a tight tip, rustic tip or half moon. In addition to the hinges for shutters, Wovar supplies shutter hardware in various sizes.
T-hinge
The big difference between T-hinges and strap hinges is that T-hinges consist of one whole. Withstrap hinges, it is necessary to order hinge hooks separately. This is not necessary with cross hitching. The hinge hook becomes a metal plate with a cross hook. T-hinges are suitable for light doors and gates. Unlike strap hinges, T-hinges are often mounted with chipboard screws. Wovar supplies T-hinges in many different shapes and sizes. For example, choose our blue galvanized T-hinges for a modern look. Or create a rural feeling and choose our black T-hinges.
Order hinges
Order matching hooks, carriage bolts, screws and lag screws together with your hinges. Green and construction companies, such as DIY companies, construction companies and gardeners, receive extra benefits at Wovar, such as discounts with a business account.