Root Cloths, Construction Foil and Tarpaulins
Wovar Root Cloths, Construction Foil and Tarpaulins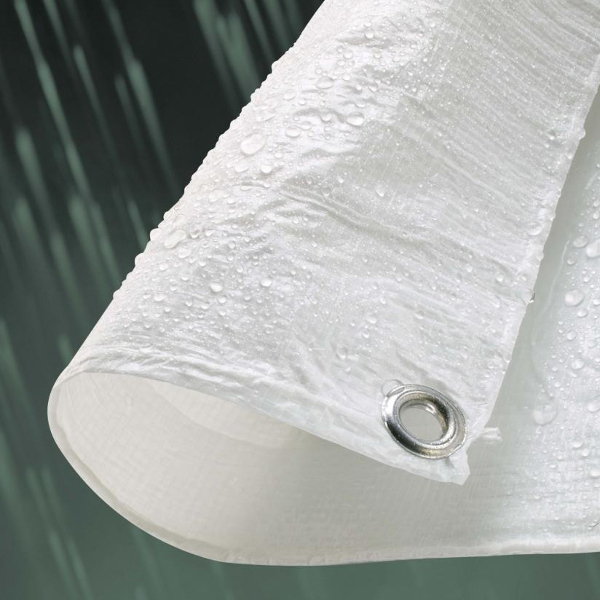 Delivery between 2 and 5 business days throughout Europe!
The premium brand for screws and bolts
Wovar Root Cloths, Construction Foil and Tarpaulins
Do you want to buy a waterproof tarpaulin, construction foil or anti-root cloth cheaply via the internet? Wovar has a wide range of waterproof tarpaulins, facade foils and root cloths in different colors and sizes. Root cloth supplies Wovar cut to size per meter, which is handy. A tarpaulin is ideal for covering your building materials and other items. You can also use the cloth as a groundsheet or make a temporary shelter. In that case, make sure that your cover has a 30% slope.
Our plastic tarpaulin white 4x6 and 8x10 meters is very popular. Our strong tarpaulin is available in the colors white, green, blue and orange. All our tarpaulins are fitted with handy aluminum eyes. These are every 100 cm. With us you can choose between tarpaulins with a weight of approximately 110 grams per m2 and 150 grams per M2. This makes them waterproof and very strong!
Wovar supplies tarpaulin in sizes from 2x3 meters to 10x12 meters. Wovar also supplies root cloth in various widths. We deliver in 2-5 business days throughout Europe.
You know what it is like, being productive in the garden when you feel the drops falling from the sky. You must act quickly now to protect your belongings from the rain! This makes tarpaulin a must have for every household. Of course there are many purposes for which our tarpaulins are also suitable. For example, many of our DIY customers use the tarpaulins to protect building materials that are in the open air. Our waterproof plastic tarpaulins are also suitable for waterproof covering of items on your trailer, but make sure to use 3-4 straps. You can also use our waterproof tarpaulins for indoor jobs such as painting. We always advise to keep several tarpaulins in stock so that you are well prepared!
Is the tarpaulin only suitable for protection against the rain?
No definitely not! For example, are you going camping during the holidays? Use the tarpaulins as a groundsheet with your caravan or tent. Also, many people protect their inflatable pool from sharp objects by using our tarpaulins underneath as a groundsheet. Enjoying your garden, but are you just a bit too bothered by the sun? Use our tarpaulins as a sunshade!
Tarpaulin white, blue, green and orange
The Wovar tarpaulins are available in four colors as standard. Wovar supplies tarpaulin blue, tarpaulin green, tarpaulin orange and tarpaulin white. The tarpaulins are fitted with sturdy rings every 100 cm. The rings have an opening of 11mm. Secure the sails with a piece of rope or pegs. Heavy stones are also often used to ensure that the tarpaulin does not blow away in strong gusts of wind.
The tarpaulins are woven from HDPE wire and provided with an LDPE coating. HDPE wire stands for High Density Polyethylene. The tarpaulins are waterproof due to the combination with an LDPE coating (low density polyethylene). Not entirely unimportant is that the tarpaulins are still reinforced with PP reinforcement wire. Polypropylene (PP) is virtually unbreakable plastic. Because it contains oil, PP can easily be reused, which is good for the environment!
Order tarpaulin
Order outdoor tarpaulins or indoor tarpaulins from Wovar. DIY companies, construction companies and gardeners benefit from extra benefits such as a discount with a business account. With an order of 10 tarpaulins per size or more, an automatic volume discount is applied!
In addition to tarpaulins and root cloths, Wovar also supplies construction foil.
Buy ground cloth (black anti-root cloth)
Place a layer of vibrated and flat white or yellow sand of at least 5 cm under your root cloth. Place your root cloth on this. Temporarily place a paving stone on the corners so that the canvas does not blow away. Then place your split, gravel or tree bark on the root cloth. You can also use our UV-resistant root cloth under your wooden decking, so weeds don't get a chance. Discover the convenience of buying custom black cloth per meter via our webshop.