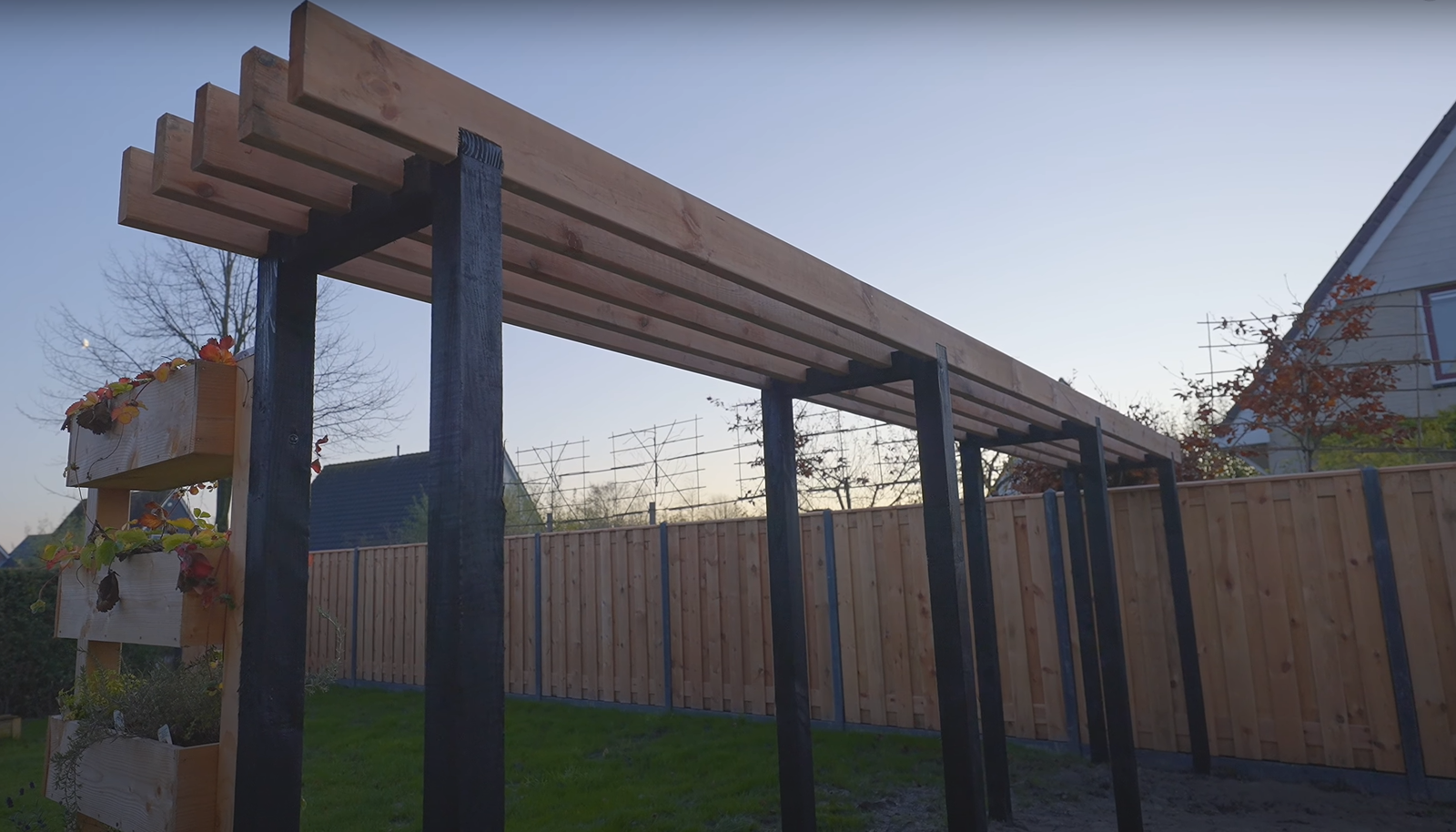 29 okt
Making a Pergola
Pergolas, most people are familiar with them. A pergola is a (usually) wooden construction for decoration in your front or backyard. In addition to decorative purposes, this construction can also serve as a sun canopy. This way you can sit comfortably in the cool shade on a sunny summer day. You can make a pergola completely independently, especially with the help of this instructional blog post and our other tips. In this blog, we tell you how you can make a pergola with the pergola brackets from Wovar. We will also detail what you will need and the location preconditions for a successful installation. This way you can make your own pergola in no time.
Making your own Pergola
Making your own pergola starts with the right supplies. The list of supplies differs per pergola and depends on the type, size, and other wishes. If you are going to make a small pergola, you will need fewer materials. If you are going to make a luxury pergola, you will need more materials. Before you can set up the list of pergola supplies, you need to measure the pergola. You should carefully look for the best place in your garden (or anywhere else) to see how much space you have for the pergola. After this, you can calculate how many materials you need. Also, pay attention to the maximum height that your pergola could have so that you avoid unpleasant surprises after or during the job. In the list of materials below, we assume a simple pergola, without extra transverse beams. This concerns a square frame in which you can hang a harmonica shade.
Pergola Supplies
Construction materials
4 Hardwood posts for the corners (the uprights)
4 hardwood posts for the top (the supports)
8 short beams, sawn obliquely (the oblique brace)
Tools
Hose drill (predrill counter head screws and countersink if necessary)
Drilling machine (drilling and screwing hardware)
Hardwood drill bit (pre-drill wood threaded bolts)
Torx bits and/or socket bits (mounting bolts/screws)
Concrete boat (for mounting on concrete floor/stone)
Tape measure (for symmetry of your pergola)
Spirit level (for a straight deck)
Circular saw (or another saw, to cut beams and braces to size)
Hardware and other Materials
Construction lag screws (for mounting angled braces)
Coach screws (for mounting the various Pergola brackets)
Pergola brackets (for easy mounting of beams) ← RECOMMENDED
Rapid concrete (when poles go into the ground
Postsaver pole sleeve(for protecting poles in the ground)
Nylon plugs (for mounting on concrete floor/stone)
Building a Pergola
With the above materials at home, you can get started building the pergola. We opt for mounting on an existing surface so that we can easily screw the pergola to the surface. You can also build your pergola in the ground, but we recommend using an auger or shovel to process the posts into the ground.
To connect the posts (supports) at the top, it is best to use our pergola elements. These are extremely strong and can be attached very quickly. This way you get a strong and beautiful pergola, which is set up in no time! Alternatively, you can also make welded connections with wood, but this requires many times more time and energy than the aforementioned connection pieces. The end result also depends on the accuracy with which you work. If you don't cut a corner or joint straight, you will always see a skewed part on display. We therefore only recommend making a welding connection in wood for the professional handyman.
To make the pergola perfectly symmetrical, measure in advance where all the posts should be and how long the beams will be. This way you can mark everything, plot it, and saw it to size. As with most jobs; Good preparation is half the job!
Placing Poles inside the Ground
As mentioned, you can opt for in-ground posts or mounting on an existing surface. We describe mounting on a wooden platform, but the construction with poles in the ground differs little from that on a platform or rock. The posts that you are going to install in the ground must be long enough. For maximum strength, ensure that you place 270 cm posts in the ground at least 70 cm. This keeps the canopy high enough for most people to walk under. Of course, you can also make these a bit higher, then take longer beams. Placing beams directly in the ground is possible, but less firm for most types of ground surfaces. This is because the soil is relatively soft in many places. Therefore, pour quick concrete at the bottom of your poles. By laying the pole into a pool of fast concrete, a large and strong anchor is formed around the pole, so that it is no longer possible to sag. Dig a hole for your posts that are approximately 2 (or more) times the diameter of the post. A 12 x 12 post must therefore be at least 24 x 24. Also use your measuring tools, such as the spirit level and tape measure. This ensures that your posts are straight and equally deep in the holes.
Pergola Piers
As an alternative to poles in the ground or your poles screwed to the ground, you can also opt for pergola piers. You do not screw the pergola posts directly to the ground surface, but to a concrete base. The concrete bases are incorporated into the ground (possibly with the help of quick concrete), after which you screw an adjustable elevated post base to it. This adjusting plate is also called a height adjustment concrete base. As the name suggests, this is height-adjustable sheet metal. This plate is suitable for screwing on a large post. By placing your pergola posts on footings, you give your pergola a completely different look than with posts in or on the ground.
Pergola Canopy
The top of the pergola will go into the ground with posts after you have installed the posts in the ground. Are you going to screw the pergola onto an existing decking or stone surface? Then it is best to make the top first. The top is made with the 4 remaining beams that you make against each other in a square. It is recommended to use our pergola brackets for this. This way can you screw the beams together in a nice and firm square. You can opt for a model that is placed over the posts, but also for an open model. With your square canopy pergola ready, you can join it together with the posts. Connecting it to the all-ready-anchored posts in the ground is the easiest part because you can easily place the square roof over the posts (and effortlessly with our pulleys as well). For a pergola on a decking or stone surface, place each post separately under the square. If you have few or no extra hands at your disposal, you can also turn the pergola upside down. You can then install two posts under the frame yourself. After this, set the pergola upright, after which you fasten the remaining two posts. It is best to install the pergola brackets with the supplied M8 coach screws, after pre-drilling with a recommended 6 mm hardwood drill bit.
In the example we chose, you now have a square frame with posts attached to it. To secure it in place, screw the frame to the ground surface. You can use our pergola floor connectors for this. Place this against the bottom of each post, after which you give four screw holes that go into the underground. Turn our strong wood thread bolts into the decking and pull this for all feed elements. You will see that your construction is firmly united with the decking. If you have a stone surface, first use a concrete drill. Drill a hole with the same diameter as the nylon plug that you are going to use. The plug size depends on the bolts you use. We supply M8 bolts with our pergola elements, for which a 12 mm thick plug is very suitable. For this, you use a 12 mm thick concrete drill.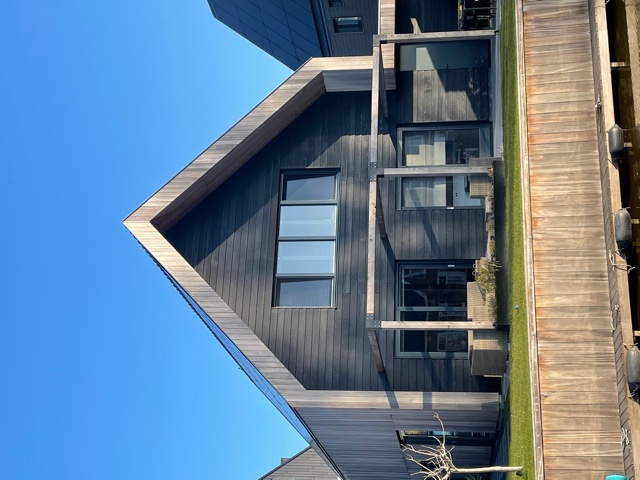 Angled Strut
Your square pergola will stand firmly in or on the ground after following these instructions: To give your pergola extra strength, you can make an angled brace at the posts. This is an oblique connection between the upright and the bracket. By placing a beam that has been cut diagonally on both sides with your construction, you obtain a strong construction that is suitable for even the heaviest weights and forces. Place the angled brace on both sides against the post and the top after the diagonal cut. You can mount these using our construction lag screws. These screws are extra long with a large screw head, for an increased clamping range. If you want to get rid of the screw head, drill out a small piece of the wood with a speed drill (spade drills). Then take the hose drill and pre-drill the hole, after which you screw in the counter head screw. Due to the enormous strength of these screws, 1 at the top and 1 at the bottom is sufficient in most cases.
Pergola with Cloth
Pergolas are extremely popular for hanging canvas. With them, you can create a beautiful sun cover or shelter against rain. Like this, you can enjoy the cooling of the shade in the summer. When it rains, you can sit dry under the canvas in the pergola. For a pergola with cloth, Wovar has included different types of shade sails in its range. Among our shade sails, you will find square, triangular and rectangular shade sails. These are available in the waterproof shade cloth and water permeable shade cloth types. The advantage of canvas compared to a fixed roof is that you can always remove the canvas. You can do this very quickly, in contrast to removing a complete roof. Using our eye bolts and carabiners makes it extra easy for you to do yourself. You can use this system not only for shade sails, but also for other accessories that you want to hang on your pergola.
Pergola Swing
In addition to a shade sail, a pergola is also often used to hang a swing. With a sturdy pergola frame, you don't have to worry about anything. The weight of a swing with a person on it is no problem with a sturdy homemade pergola. To hang the swing, you can choose our wedge bolts, but also our swing hooks! The swing hooks are sturdy hooks, specially made for swings. A pergola swing gives a playful look to your garden. In addition, this is very easy if you have children and at the same time want to enjoy a beautiful canopy in your garden. This saves space because you don't have to build a swing. In addition to a swing, you can also provide your pergola with outdoor lighting. This way you can enjoy your own pergola even in the dark. For this, Wovar has included various types of outdoor lighting in its range.