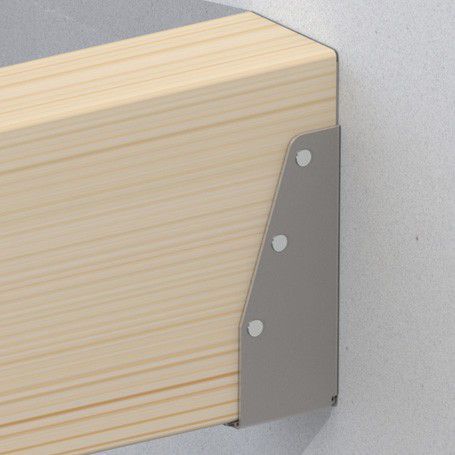 15 dec
Joist hangers vs beam brackets: what's the difference?
What do I need? Do I go for a beam bracket or a joist hanger? In this blog, we explain the difference between beam brackets and joist hangers, as well as clarifying which beam bracket you will need for which situation.
The most important difference between our beam brackets and joist hangers is the load bearing capacity. Wovar's joist hangers have been tested for maximum load bearing capacity and are CE certified. This means they are suitable for hefty constructions. Beam brackets, on the other hand, have not been tested. Therefore, the maximum load bearing capacity of our beam brackets is unknown.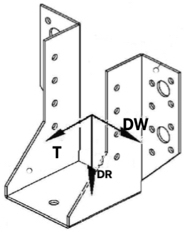 On the product page of every joist hanger, you will find a table with the load bearing capacity. You can see an example of such a table below.
| | | |
| --- | --- | --- |
| Mounting | With nails | With screws |
| DR | 1062 KG | 3633 KG |
| DW | 1468 KG | 3603 KG |
| T | 130 KG | 2682 KG |
The load bearing capacity shown in the table concerns T-connections with wood. When using screws, it is best to use screws with a minimum thickness of 4.0 mm.
When do I opt for a beam bracket?
The advantage of a beam bracket as opposed to a joist hanger is that a beam bracket is not equipped with so-called wings (see image to the right). The result is that beam brackets are a lot narrower, making it possible to place a beam flush against the wall. Wovar offers beam brackets with and without flange (a piece of metal sticking out of the bracket). Beam brackets with flange are used when a wall has not yet been built. The flange should then be built into the wall. If you already have a wall that you want to attach a beam to, choose beam brackets without flange.
Black beam brackets and joist hangers
If your room has got an industrial look, a black beam bracket or joist hanger might fit in better than the regular grey options. Or pick invisible beam brackets if you prefer not to see the connection at all. You can find all the different kinds of brackets on our website. Do you still have questions? Do not hesitate to contact us. We will be happy to help you.