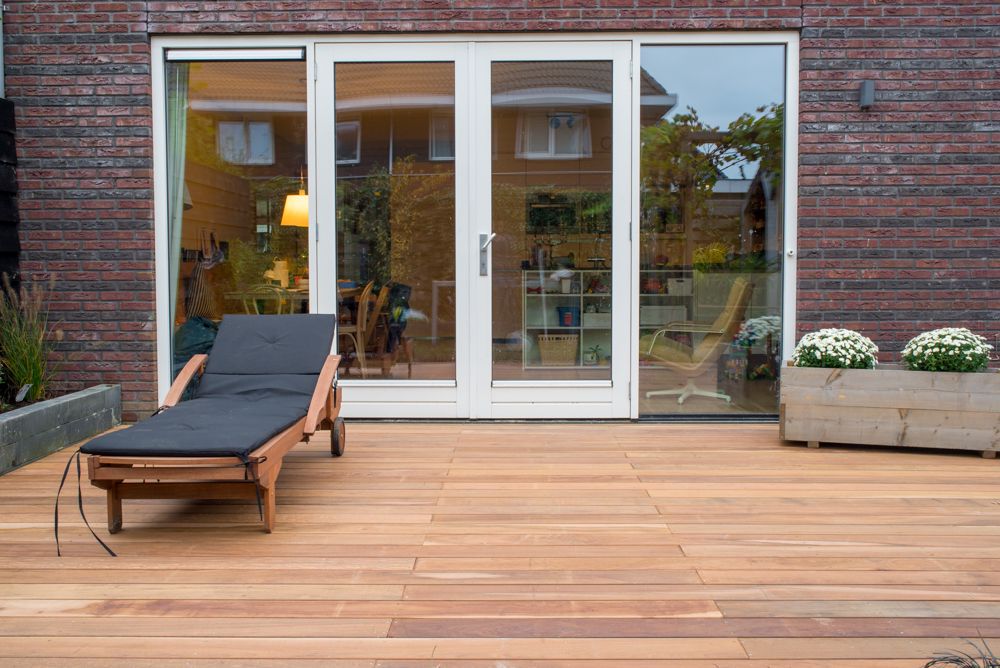 24 jun
Decks with or without Invisible Attachment... and other Tips
Decking Clips
Wovar offers you different ways to lay decking. In this blog, we explain the different ways, advantages, and disadvantages of each. This way, we can help you to make the right choices for your preferred method of attaching your decking. Additionally, we will discuss other useful tips when building decking, such as which screws are best to use, which types of hardwood are best to use, how far a decking can protrude, and which types of spacers are the best for each kind of wood.
There are simply two ways to attach decking to the joists, namely with or without an invisible attachment. Invisible decking attachment means that the decking boards have a sleek and even appearance from the top because the fixing materials are under the wood and are in this way attached to the joists. On the other hand, you can use decking screws that you screw into the joists at the top of the decking boards, so that they are visible on the surface of your terrace. The difference between the two ways is simply appearance and time.
Invisibly Attaching Deck Boards
The invisible attachment of decking takes more time and requires wood with a notch, but it looks much better. There are two ways of invisible mounting. You can use stainless steel B-fix clips. These clips can be easily attached to the joists with a single screw, but will only fit between decking boards with a notch for the clip. Then you have to arrange a type of wood that already has a notch, otherwise, you will also have to saw notches in addition to laying the decking boards. The appearance is ultimately not in vain, as the clips disappear nicely in the intermediate joints of the wood and can be mounted faster compared to other clips.

Stainless Steel B-Fix clips for decking. The clips are secured with a single screw and sit in the notches of the wood.
You can also use hidden deck fasteners. These are plastic fasteners that, unlike stainless steel clips, take more time to install, but are a lot less noticeable between the wood. This method of confirmation fits best within the pure definition of invisible fastening. The fasteners have to be fixed with four screws and are a bit more labor-intensive to mount the right way. For these hidden deck fasteners, you simply have to take a little more time and work more slowly. Additionally, you will probably need an extra pair of hands to ensure that the decking boards lie neatly straight on the joists.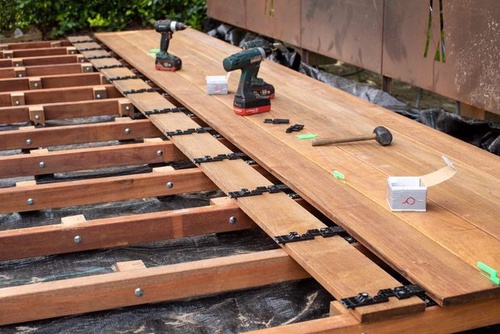 Install Deck Boards using hidden deck fasteners. With these hidden deck fasteners, you can easily slide the shelves together.
Fastening Deck Boards
Then, of course, there is the simple fastening with deck screws that you screw in through the top of the deck boards into the joists. The screws can then be clearly seen on the surface of the decking boards, and the screws are therefore also exposed to the elements. We, therefore, recommend that you always use screws made of stainless steel, so that the entire construction lasts longer. Fastening with screws takes less time because it is simpler, but has a less attractive appearance than blind fastening. You should also pre-drill the wood continuously to ensure that your hardwood does not crack. Usually, two drilling machines are used with this form of attachment so that you do not have to adjust the bit for every board, and you can then work a little faster.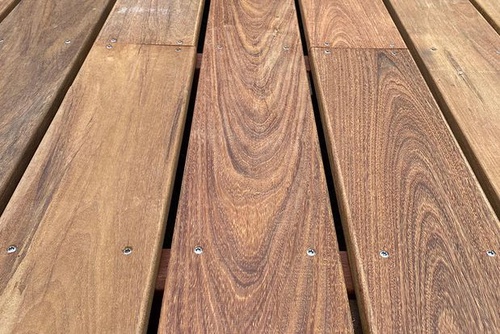 Fastening with Wovar deck screws. The screws are made of stainless steel and are very strong and durable.
Deck Screws
Whichever way of fastening you ultimately choose, you will need screws to secure the decking boards. Deck screws are by definition, the best screws for building a deck. This is not just like any other screw but is specially designed to properly absorb the warping of different types of wood. Our deck screws are made of Stainless Steel 410. The 410 means that there is less nickel in the groove, which ensures that our screws are very strong. Even if you do not pre-drill with a strong cordless drill, you can still mount our deck screw. This is because it has a cutting point and milling ribs with which the wood sawdust is properly removed. The Torx head ensures that the head does not strip. In short, our deck screws are the best way to fix your dec boards. Therefore use the Wovar deck screws 5 x 50 mm.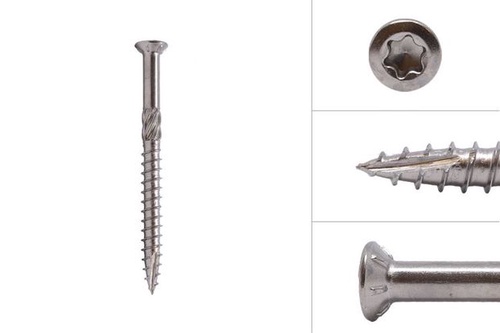 Which type of Wood to Use for Decking
There are many different types of wood, from Central European Larch Douglas to Brazilian Ipé. What distinguishes the different types of wood is the warping of the wood. By warping, we meant the deformation in the wood, which occurs under the influence of moisture. Wood can swell and shrink due to the absorption and release of moisture. In some cases, moisture can even warp or crack wood species. The degree of discoloration also depends on the type of wood. Cheap Keruing wood, for example, turns green after a few years because the planks are completely filled with water.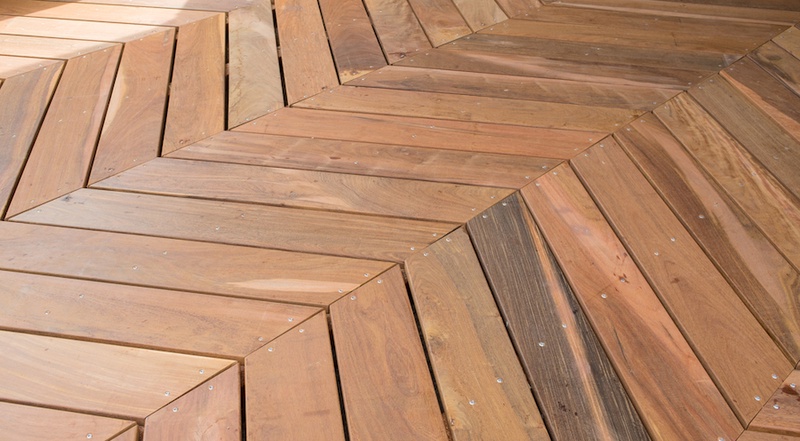 Extra-wide Banikrai planks absorb little moisture, and are therefore solid, remaining relatively stiff, so that you cannot slip on them. But for Banikrai you have to keep a decent gap of about 12 mm so that the grooves are visible. You can also opt for softwood, but that is a softer wood, absorbs more moisture, and also needs more space. Then there is Ipé, a Brazilian type of wood with very little warping, so the spacing between them only needs to be 8 mm. It does not become slippery quickly because the wood absorbs little moisture and it discolors beautifully in pencil grey. There are many other types of wood, each with its own shape, warping effect, and discoloration. These are also the factors on which you can best determine your choice.
Whatever type of wood you choose, we recommend that you finish the wood with a stain. It coats the planks and protects them from weather conditions. Stain penetrates deep into the wood, while lacquer remains more on the wood. Stain is also moisture regulating, so any absorbed moisture that is in the decking boards can escape through the stain layer. It also protects against mold and discoloration. The protective effect of stain ensures a longer life for your decking boards, and thus prevents future maintenance costs.
How Far can a Deck Protrude?
The type of wood you choose determines which deck board spacers you need. As the warping of the wood increases, the space between the deck boards should be larger, so that the wood has room to expand when it absorbs moisture. The spacers help you make even seams of the decking. Our spacers are divided with color codes and you can adjust the distance with different spacers that suit the effect of the wood species you have chosen. Speaking of distance, it is also useful to leave about two centimeters of clearance between the start of the decking and, for example, your house, so that the wood can work when it absorbs moisture.
In summary, there are many considerations regarding the way in which you want to build a wooden decking. We hope that at least some of these considerations have been clearly mapped out for you with this blog. You can get started with your own decking with the Wovar products that have been discussed in this blog. View our full category page for deck screws and decking clips, where you can find all related products.